IP CAMERA ALL IN ONE , PLUG AND PLAY Description:
กล้องไอพี ใหม่ คมชัด สบายตา ปรับหมุน ก้มเงย ได้ บันทึกลง SD-Card
IP Camera H.264 ดูกล้อง ผ่าน Iphone ,Smart Phone หรือ PC รองรับ
Browser IE ,FireFox,Google Chrome และ Safari ค่าย Apple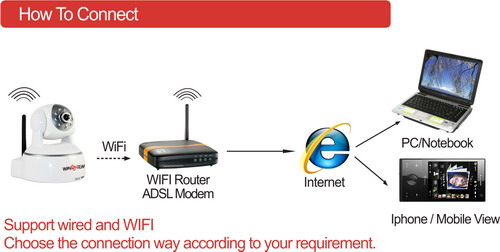 Features:

- 32-bits RISC processor and special video encoder which can be up to 3M pixels encoding performance.
- Support H.264 Main Profile@Level3.0 compression format, bit rate is smaller, and the image is more clear. It is more convenient for transferring through Internet and save more storage space.
-VGA/QVGA/QQVGA resolution optional. User can change some specification according to their demands to satisfy his own visual prefer.
- Support mobile phone watching.
- Support external microphone or line-in audio input signal to send out the live sound.
- It was equipped with pan/tilt function, horizontally 350°and vertically 60°. Its outlook is smart, easy and convenient to install in many sites.
- Built-in web server, support video view and parameter settings by browser; use one port to send all the data, it facilitates network setting.
- Support 802.11b/g protocol, can build-in wireless monitoring.
- Supports UPNP, port forwarding automatically on the router.
- Motion detection and alarm pin can be connected to external sensors to detect environmental situation.
- Alarming record can be stored by email, FTP server. External alarm can be open when detecting unusuality. It also sends alarm info to the alarm server.
- Infrared LED for night vision covers 5m area, to realize 24 hours monitoring..
- Support three level of user authority.
- Support upgrading online.
- Manufacture attached a label at the bottom of each IP Camera, it include Device ID, DDNS. When IP Camera is connected to the internet, this URL can be used to visit the device.
- Manufacturer provides free software, support Multi-view, Long time recording, video replay etc.
Techinical Specification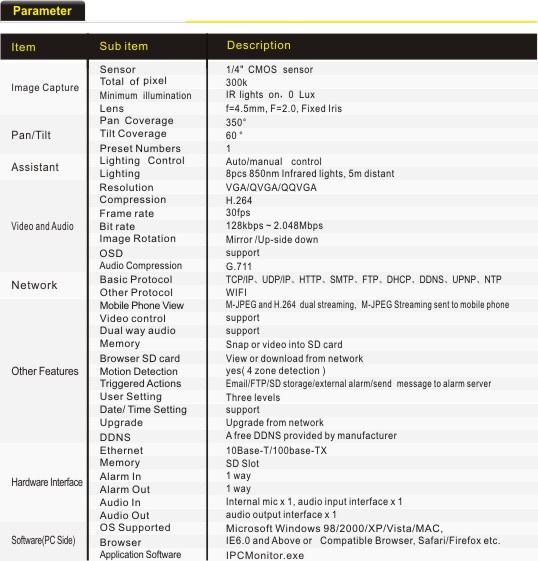 MHC530W Pan/Tilt IP Camera เป็นกล้องที่รองรับการดูผ่านระบบเครือข่าย (Network LAN ) หรือ ระบบอินเทอร์เน็ต (Internet Network)
สามารถเข้าชมกล้อง ติดตามความเคลื่อนไหวภายในบ้าน สำนักงาน หรือที่ใดๆ ผ่าน WiFi หรือ โครงข่ายอินเทอร์เน็ต บนโทรศัพท์มือถือ ,iPhone หรือ Smart phones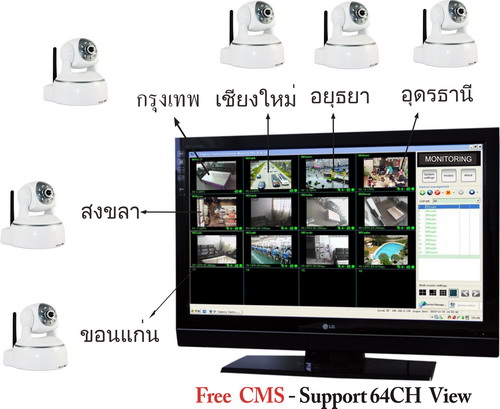 530W Series มาพร้อม กับ CMS Software รองรับ สูงสุด 64 กล้อง และยังสามารถ ดูกล้องในหน้าเดียวกัน จำนวน 16 กล้อง ต่อหน้า

สามารถ ดูกล้องผ่าน Safari บน iPhone ,iPad หรือ MAC หรือ จะดู ผ่าน Software Live Cams (Commercial) บน iPhone

| | |
| --- | --- |
| | |
| Safari บน iPhone | Live Cams บน iPhone |
องค์ประกอบต่างๆของกล้อง IP CAMERA


MHC530W High quality IP Camera มีคุณสมบัติ ดังนี้
1. รองรับ SD card เพื่อการบันทึกได้สูงถึง 32GB
2. รองรับระบบ Alarm มี Input/Output Trigger
3. หมุนมุมกว้างได้ 350° / ปรับมุมก้ม-เงยได้ 60°
4. Realtime Monitor เข้าชมสดและควบคุมกล้อง ผ่านมือถือ และ PC
5.ดูกล้องใน MAC, Iphone/Ipad ได้ทันที ด้วย Safari
หรือ Web browser บน Android Smart Phone (บางรุ่น)
โดย พิมพ์ URL กล้อง
6. Motion Detection บันทึกลง SD card เมื่อมีการเคลื่อนไหว
7. รองรับการส่งไฟล์ แบบ FTP




เข้าทดสอบชมกล้อง คลิกที่นี่

username : user
password : user


- หรือ อ่านวิธีการเข้าชมกล้องบน PC คลิกที่นี่

- การเข้าชมกล้อง ผ่าน iPhone/iPad หรือ บน Android smart phone
โดย พิมพ์ URL กล้อง บน Browser